Our Clients
We've been privileged to support some of Canada's leading non-profit organizations.
Executive Recruitment
Selecting with Purpose. Your organization depends on good leadership, and it's important you get the right person for the job. It's not easy, but when you know where to look, you'll find them.
Board Governance & Best Practices
Leading with Purpose. The success of your organization rests on good decisions and viability. Your board will get the support it needs to thoroughly execute those two main objectives.
Succession Planning
Progressing with Purpose. Change is inevitable. When it's time, your organization will be prepared to navigate a seamless and easy transition while preserving your mission.
Strategic Planning
Planning with Purpose. Effective strategies can be strong organizational tools when developed correctly. Your organization will get one uniquely designed based on present and future needs.
Leadership Assessment (Birkman Method Assessment)
Understanding with Purpose. Get the most out of your team by getting to know them better. When you do, it enables your organization to be more cohesive and efficient.
Executive Coaching
Training with Purpose. You've got the right leader now what? Set them up with the right tools and knowledge to take your organization to the next level.
StoneRidge Fellowship Baptist Church
Senior Pastor
Posted: October 29, 2020
Closing: November 30, 2020
StoneRidge Fellowship Church is an evangelical Baptist church that places a strong value on biblical teaching and holds God's Word as the highest and best authority for people's lives. As a thriving community of believers, StoneRidge values relationships with each other and their community.  StoneRidge is seeking a highly relational and collaborative Senior Pastor who is an effective communicator of Biblical truth in a culturally relevant manner that will inspire transformational change.  He will have a shepherd's heart for the church and a passion for what makes StoneRidge and our surrounding community unique.
---
Fair Haven Homes Society
Chief Financial Officer
Posted: October 27, 2020
Closing: November 13, 2020
Fair Haven Homes Society provides low-cost housing and residential care to seniors in Burnaby and Vancouver and seeks an experienced Chief Financial Officer to provide financial management and operational oversight. As a member of the senior management team, the CFO will be involved in strategic planning, evaluation, and future development initiatives. In a collaborative leadership style, the CFO will continue to build and manage effective and streamlined financial systems, including accounting, legal, and information technology.
---
MCC BC Legacy Trust
Chief Financial Officer
Posted: October 13, 2020
Closing: November 28, 2020
MCC BC Legacy Trust seeks a Chief Financial Officer to manage development lands and income-producing properties throughout BC with the designated purpose of generating ongoing revenue to support the worldwide ministry of Mennonite Central Committee (MCC).  MCC is a Christian faith-based charity that provides relief, development, and peacebuilding initiatives in over 51 countries worldwide.
---
Maplewood Care Society
Chief Executive Officer
Posted: October 1, 2020
Closing: October 30, 2020
Maplewood Care Society is a non-profit society, providing quality residential care services in Abbotsford and seeks an experienced Chief Executive Officer to provide overall leadership, direction, and administration in accordance with the Strategic Plan and in alignment with the Vision, Mission, and Values of the organization.
---
Global Aid Network (GAiN)
Chief Executive Officer
Posted: September 23, 2020
Closing: October 13, 2020
Global Aid Network Canada is one of the ministries of Power to Change and seeks an experienced Chief Executive Officer . GAiN is a worldwide humanitarian relief and development organization dedicated to bringing hope and tangible help to the poor and the suffering.
---
Providence University College & Theological Seminary
President
Posted: September 1, 2020
Closing: September 30, 2020
Providence is seeking an energetic, experienced and accomplished leader with a passion and vision for Christ-centered higher education to fill the role of President. Providence is an academic learning community that transforms students into leaders of character, knowledge and faith to serve Christ in a changing world. Providence is a leading Canadian Christian University offering bachelor's, master's, and doctoral degrees.
Getting your organization where it needs to be
Our mission is to enable your organization to make a greater impact by achieving your purpose from optimum health and capacity.
The journey always starts with finding the right leader, but we take it a few steps further. We guide organizations toward excellence by offering support in those "hard to tackle" areas.
Greater impact starts with unlocking purpose, optimum health, and capacity. Through a one-on-one consultation, we will work with you to identify the ideal next steps to move your organization into excellence.
Tell us about yourself, your organization, and current needs or roadblocks.
We'll schedule a time to connect and do a deep dive on your organization.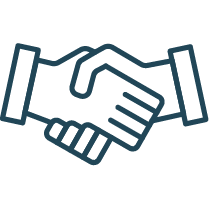 We'll provide recommended next steps to take your organizations impact further.
We will be in touch soon to book a consultation. In the meantime, you can read more about the work we do.