Our Clients
We've been privileged to support some of Canada's leading non-profit organizations.
Executive Recruitment
Selecting with Purpose. Your organization depends on good leadership, and it's important you get the right person for the job. It's not easy, but when you know where to look, you'll find them.
Board Governance & Best Practices
Leading with Purpose. The success of your organization rests on good decisions and viability. Your board will get the support it needs to thoroughly execute those two main objectives.
Succession Planning
Progressing with Purpose. Change is inevitable. When it's time, your organization will be prepared to navigate a seamless and easy transition while preserving your mission.
Strategic Planning
Planning with Purpose. Effective strategies can be strong organizational tools when developed correctly. Your organization will get one uniquely designed based on present and future needs.
Leadership Assessment (Birkman Method Assessment)
Understanding with Purpose. Get the most out of your team by getting to know them better. When you do, it enables your organization to be more cohesive and efficient.
Executive Coaching
Training with Purpose. You've got the right leader now what? Set them up with the right tools and knowledge to take your organization to the next level.
Getting your organization where it needs to be
Our mission is to enable your organization to make a greater impact by achieving your purpose from optimum health and capacity.
The journey always starts with finding the right leader, but we take it a few steps further. We guide organizations toward excellence by offering support in those "hard to tackle" areas.
Greater impact starts with unlocking purpose, optimum health, and capacity. Through a one-on-one consultation, we will work with you to identify the ideal next steps to move your organization into excellence.
Tell us about yourself, your organization, and current needs or roadblocks.
We'll schedule a time to connect and do a deep dive on your organization.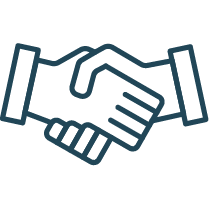 We'll provide recommended next steps to take your organizations impact further.
We will be in touch soon to book a consultation. In the meantime, you can read more about the work we do.