Our Clients
We've been privileged to support some of Canada's leading non-profit organizations.
Strategic Planning
Planning with Purpose. Effective strategies can be strong organizational tools when developed correctly. Your organization will get one uniquely designed based on present and future needs.
Board Governance & Best Practices
Leading with Purpose. The success of your organization rests on good decisions and viability. Your board will get the support it needs to thoroughly execute those two main objectives.
Succession Planning
Progressing with Purpose. Change is inevitable. When it's time, your organization will be prepared to navigate a seamless and easy transition while preserving your mission.
Executive Recruitment
Selecting with Purpose. Your organization depends on good leadership, and it's important you get the right person for the job. It's not easy, but when you know where to look, you'll find them.
Leadership Assessment (Birkman Method Assessment)
Understanding with Purpose. Get the most out of your team by getting to know them better. When you do, it enables your organization to be more cohesive and efficient.
Executive Coaching
Training with Purpose. You've got the right leader now what? Set them up with the right tools and knowledge to take your organization to the next level.
---
---
The Wellspring Foundation
Western Canada Development Officer - Reviewing Resumes
The Wellspring Foundation (Wellspring) works tirelessly in partnership with the Rwandan people to empower leaders, teachers, and parents to take ownership for the success in their local schools.  Their goal: to spark change using Christian values-based education methods in each school that will continue for generations to come.
Wellspring is seeing fantastic progress in their work so far.  With this growth they now need a passionate strategist and relational storyteller to work with a dynamic team and inspire donors in the Western Canada/USA region to dedicate further financial commitments, leading to generations of improved lives in Rwanda and beyond through education.  The Western Canada Development Officer (WCDO) will experience first-hand the sustainable positive impact of Wellspring's activities in Central and Eastern Africa and convert these encounters into engaging events and presentations that appeal to a multi-generational, Western North American audience.
Come live your calling for connecting people with opportunities to financially support transformational change and multiply the successful impact on thousands of people within Central/Eastern Africa long into the future.
APPLICATION DEADLINE: Open until filled.
---
---
Royal Arch Masonic Home
Director of Food & Environmental Services - Open Until Filled
The Royal Arch Masonic Home (RAMH), a publicly-funded complex-care facility operating since 1982, strives to foster a welcoming and inclusive environment for all residents within their 151-bed site in Vancouver, BC.  Their mission is to deliver an effective and efficient continuum of health care and support services to a population of older adults who require residential care.  All care provisions are designed to meet the specific requirements of the individual and his or her support network, and these are guided by resident-focused values and principles.
The Director of Food and Environmental Services (DFES) represents the needs and concerns of the Food Services and Housekeeping teams at the senior management table. Reporting directly to the Administrator, he or she ensures that the facility and food provisions are organized, cost-effective, high-quality, appealing, sanitary, and safe.  The DFES is responsible for staff management (hiring, scheduling, supervising, and evaluation), evaluating and implementing policies, procedures and practices of both Food Services and Environmental Services in accordance with licensing requirements, preparation and administration of the departmental budgets, and overseeing sanitation and other preventative maintenance best practices.  Practical rewards for this role are significant: an exceptional compensation and employee benefits package, plus five weeks paid vacation!
The successful candidate will be:
passionate about nutrition and healthy lifestyles,
adept at applying these to an audience with extensive life experiences and a variety of expectations, and
a consummate organizer and manager with a vision for continual best-practice improvements.
Your commitment to seniors' care and honed deliverable abilities will make life better for the residents, and their loved ones, at Royal Arch Masonic Home.
Find further information about Royal Arch Masonic Home at www.ramh.ca
APPLICATION DEADLINE: Open until filled.
Getting your organization where it needs to be
Our mission is to enable your organization to make a greater impact by achieving your purpose from optimum health and capacity.
The journey always starts with finding the right leader, but we take it a few steps further. We guide organizations toward excellence by offering support in those "hard to tackle" areas.
Greater impact starts with unlocking purpose, optimum health, and capacity. Through a one-on-one consultation, we will work with you to identify the ideal next steps to move your organization into excellence.
Tell us about yourself, your organization, and current needs or roadblocks.
We'll schedule a time to connect and do a deep dive on your organization.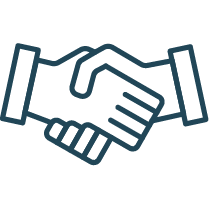 We'll provide recommended next steps to take your organizations impact further.
We will be in touch soon to book a consultation. In the meantime, you can read more about the work we do.
401 - 1477 W. Pender Street
Vancouver, BC V6G 2S3
Canada